Services & Features
Here at RDS Intertrans BV at Amsterdam Airport Schiphol, we pride ourselves on our services, bringing you a range of delivery and logistical solutions…what you want, when you need it. Below is an outline of some of what we have to offer.
We oversee the collection of your cargo, book the earliest departure, confirm departure, arrival & hand over at destination Airport. If personal delivery is required for "hand carry items" we can accompany the cargo on board the plane and to the final hand over point.
We provide a loading & unloading assistance service at all airport warehouses for delicate or costly shipmentsthat require extra attention & care. The process is documented and photographed for insurance purposes.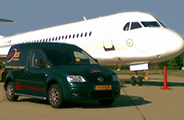 When you need it most, we have a 24/7 Aircraft on Ground (AOG) service available. Within 90 minutes we can pick up the shipment ( airport vicinity & Airside ), print your airwaybill, complete the necessary documents, label the shipment and deliver it to the airline.
It happens frequently. Cargo has been delivered to the airline and the cargo agent realises that the airfreight documents are incorrect. This happens often after office hours.To facilitate this RDS offers a " print an airwaybill " service for our airfreight customers. You simply mail us a copy of the master / house airbill and we do the rest including new cargo labels and a replacement ACN receipt docket.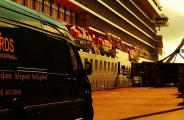 From flowers to engine parts, we have many years experience in deliveries to either luxury cruise ships or merchant ships. We ensure that the necessary documents are customs processed and the delivery sheets have been ship stamped for acceptance of your cargo.
RDS Intertrans has vehicle guidelines, these guidelines are to assist you in choosing the correct vehicle to complete your job quickly and safely.
Click here
to see our guidelines.
24 hour service
Fully branded, GPS-enabled courier fleet
Drivers security checked, trained & uniformed
Registration in European database of Registered Agents.
AEO certificate ( Safety )
Member of TLN ( Dutch Hauliers Association )
Holder of European haulier license.
Full range of ASAP, Pre-booked and dedicated service options
Book by phone or mail.
Confirmation email showing job details, recipient signature and date and time of every consignment
Details of the courier's mobile number, vehicle registration provided prior to collection if requested.
Real-time client tracking of the job progress showing the exact map location of the courier
Tracking history available on every courier journey
Extra Secure services available
Personnel in possession of ACN passes