About Us
RDS Intertrans was set up in 1997 and we believe that we can provide you with logistical support that excels in quality, professionalism and cost effectiveness.
Our experience has shown us that no two clients needs are the same and therefore we carefully review a clients requirements before embarking on a business partnership.
Because we operate on a more personal level, we can help and efficiently solve many unforeseen problems or special requests with even having to contact the customer. Thats why we are proud that our customer base exceeds 200 customers in the Netherlands.
We operate a 24-hour, seven days per week, 365 days per year and our conscientious and courteous staff members have many years of experience in same day delivery, ensuring your goods will be delivered with the utmost care at all times.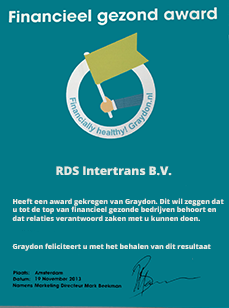 Whether it's a courier shipment, an on-board courier, a ship spares delivery , a loading or unloading assistance or an urgent AOG, you can be assured that we offer a tailor made service, time after time. Thats why most of our customers have been with us for the last 17 years !
We are registered in the European database of Regulated Airfreight Agents and have recently gained our AEO ( Authorised Economic Agent ) status. Our aim is to further consolidate our position as a reputable courier company and to broaden our customer base even more in the immediate future.
RDS received a Graydon award in december 2013 to indicate that it is a financially healthy company.